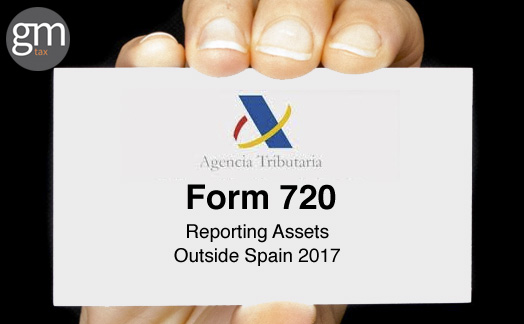 720 form. Reporting Assets Outside Spain 2017
If you have good and rights abroad, they are subjected to an informative tax obligation the 720 form, and it is precisely to this form that we dedicate our article today, in which we try to answer the basic questions that may arise respect this obligation.
1. Who is affected by this obligation?
The subjects affected by this obligation are:
• Natural and legal persons resident in Spain.
• Permanent establishments in Spanish territory by persons or entities not resident.
• Entities Article 35.4 of the Law 53/2007: "Inheritance underlying, community of goods, entities without legal personality that constitute a separate economic unit or heritage liable to taxation".
2. How often should the subjects submit this form?
The filing of720 form takes place between January 1 and March 31 of the following year that relates to the information that has to be supplied. The way to submit this form is compulsorily electronically.
COMMENTS:
There will be no obligation to submit the form when the sum of the goods does not exceed € 50,000.
• After submitting the first 720 form, only have to be resubmitted with respect to those groups of goods that have experienced a real increase of € 20,000 compared to last filing done.
3. What is the content of 720 form?
The content of 720 form is basically the following:
• Information on bank accounts located abroad.
• Information on securities or rights located abroad.
• Information on participations shares in the share capital or equity fund of collective investment undertakings situated abroad.
• Information on life insurance and disability when the insurance entity is located abroad or over temporary or lifetime rents obtained as a consequence of the delivery of money capital, economic rights or movable or immovable properties respect to entities located abroad.
• Information on movable properties and rights on movable properties and rights to real estate located abroad.
*In order to know exactly the information that have to submit in relation with the points commented previously, you can consult the pdf that we attach with this article, where there is more information about this form.
4. What are the consequences of not attending this obligation?
Not attending this obligation is considered a serious tax infraction and a system of sanctions is established (to see the sanctions and their amounts, you can consult the pdf that we attach with this article, where there is more information about this form).
Conclusion:
You already known, if you have goods or rights abroad and they comply the requirements previously mentioned, you have to file a 720 form if you do not want to incur in serious tax infraction.
We hope that our article has solved the basic questions about this obligation, we are at your service in order to advise you, as well as for the preparation and filing of the form.